by Matt de Neef | Indeterminate Blog Team
First things first. You'll have noticed my posts have been conspicuously absent in the past week. You didn't? Because you were reading my other articles..ah, that's excellent news! Apologies either way though, here's another for you all.
Unun-credible? New Element Added
First featured on NatGeo
Something for the ChemEng students!
Ahh the Periodic Table. How do I love thee? Let me count the ways. Actually, let me count a little more than before, because the familiar Periodic Table you're used to seeing has gotten 1 element bigger recently. There's a reason why this table is
Periodic
, because elements fit according to expected behaviour in progressive slots, and 2 independent labs have managed to create mankind's newest element to fit into those
slots. IUPAC, the Internation Union for Pure And Applied Chemistry, decides if it's credible and also what it'll be called. The 115-proton man-made element confirmed by both Swedish and Russian labs has been given it's temporary name Ununpentium while IUPAC decides on a proper name (no it's not a CPU ;)) and joins its fellow elements,

114 and 116-flerovium and livermorium, respectively-on the periodic table. This kind of element is honestly kind of pointless for us because we're not exactly sure what it does, but it's cool to create a new element and be able to put it right where it's been expected for the last hundred years. One thing's for sure, if you've got a Periodic Table shower curtain or something, wait till IUPAC names 115, then go out and buy yourself a new one!
Enter the Nexus: The New Nexus
If you paid attention to my last post I mentioned I was eager and went ahead and ordered (imported) a gadget from the US. Well after about 2 weeks of using the latest Google toy, I must say I'm impressed. For those of you in the dark the
Nexus
range of devices from Google, are Android phones/tablets that run a 'pure' or 'AOSP' version of Android, without any manufacturer fluff like zillions of S-Apps (Samsung), Boom-This and Beats-that (HTC) and Xperia-anything (Sony) on your device. IF you're
still
wondering what that means, check out my article on Android skins to hopefully make the penny drop.
Returning from that side-track, Nexus devices are pure Google devices made by selected hardware partners. Right now, the Nexus 4 phone is made by LG, the Nexus 10 tablet by Samsung, and both the old and the new Nexus 7 (2013) by Asus. In all honesty, when the new Nexus 7 tablet released at the end of July, most people were already confident it was going to be just as awesome as its predecessor, the "old" Nexus 7.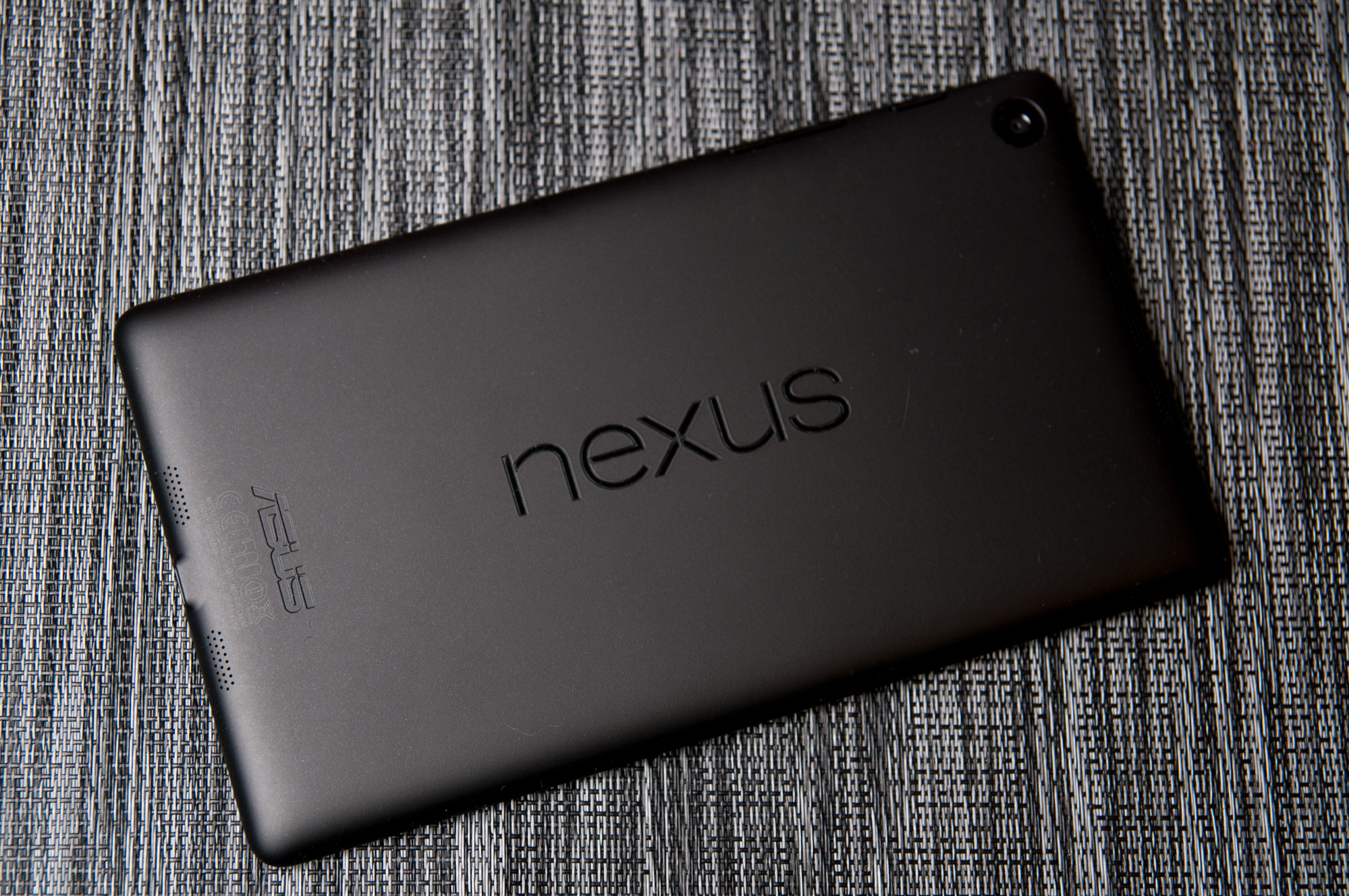 Nothing says pure Android like "Nexus" branding
What do I say about this gorgeous 7-inch Android marvel? Cheap (R3600 with import duty to SA, about R2500 converted straight), powerful and with a dazzling screen as the cherry on top. You may argue with me on the cheapness factor, but with a full HD 1920x1200 pixel screen resolution on a 7-inch screen, a raging quad core Snapdragon S4 Pro CPU, roomy 2GB RAM and other niceties like NFC (bluntly something like "S-Beam"), this tablet brings more to the table than current devices in the SA market retailing for R4000+. Besides throwing impressive specs around, this tablet feels great. It's holdable in one hand (shocker right) and doesn't feel like it'll self destruct if you grip it too hard. I've been using it for some time now and I must say for university notes, slides, documents, web browsing and the like, my laptop stays closed much more often than before. Sure you can't type massive reports of make super-accurate handwriting, but at this pricepoint it makes the low-res iPad Mini and the woefully overpriced Galaxy Tab 7 2 cower in fear. Battery life isn't bad either, I got a solid 50 hours of 100-0% battery runtime with 11.5 continuous screen on time. Yowza indeed. There were some shortcomings though, including GPS lock issues and a touchscreen that went crazy if you multitouched, rendering Google Maps and other apps useless. Luckily, this was nailed down to a software update, which, for most of us, fixed the problem completely. All in all if you can live with a 7 inch tablet, you need look no further than the new Nexus 7, both for documents, readng, browsing, as well as gaming and music. If you're tight on cash, no problem, get last year's Nexus 7 model then. Cheaper but barring a lower-res screen and a slightly older chipset, just as good.
Branson Does it Again: SpaceShipTwo manages ...well...space
First seen on News24
Have a Break...have a KitKat
1.5: Cupcake
1.6: Donut
2.0-2.1: Eclair
2.2: FroYo (that's frozen yoghurt for us non-Americans)
2.3: Gingerbread
3.0: Honeycomb (tablets only)
4.0: Ice Cream Sandwich (I also asked...what is it...typical Americans ;))
4.1-4.3: Jelly Bean
The Samsung Galaxy Note 3 and galaxy Gear Smartwatch released yesterday, yes we know, and we'll get to that news story soon! For now, thanks for reading, and follow us on our social networks!